Alumni Updates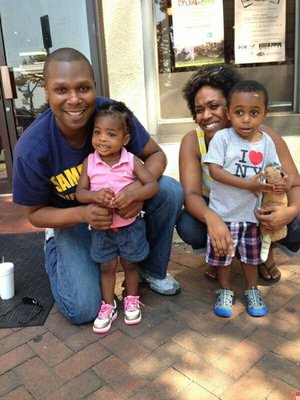 Spotlight on JP Alum Keidron Dotson
Keidron began his career with Junior Players in 1997 as a participant in the Summer Shakespeare program. He would then continue to be a part of the Junior Players family for six more years, serving both as an intern and a teaching artist. Keidron earned his B.A. in Journalism from Grambling State University and is currently working on his M.S. in Higher Education Leadership at Northeastern State University. While interning at Junior Players, Keidron's interest in the television industry was sparked when he was asked to deliver documents to WFAA one afternoon. A few years after that experience, he began working as an anchor and weekday reporter for the NBC and FOX affiliate in Monroe, Louisiana. He also worked as a reporter for the NBC affiliate in Tulsa, Oklahoma before making a transition to education administration. He is now working as an advisor and mentor at one of the largest community colleges in Oklahoma and feels that he has "finally found his true purpose." Keidron has been fortunate enough not to have experienced too many challenges in his career, but he says that his "training in JP has allowed [him] to think quickly on [his] feet and shine when it's time to make a firm impression." He also firmly believes that the friendships he has made while being a part of Junior Players has "played an important role in helping [him] develop." "Thinking back, JP was such a valuable tool in keeping me off the street. I could have easily gone another route...very easily. However, always having something to look forward to allowed me to put my focus on something positive while developing a strong bond that proved helpful during my high school years and during summers while home from college." When asked what advise he has for future alumni of Junior Players, he says, "Spread the good word about JP to those you know…especially to folks who can write big checks on behalf of helping teens with free programs." Keidron currently lives in Tulsa, Oklahoma with his wife and son.
---
Spotlight on JP Alum Vikas Adam
What is your current occupation?
I am an actor, voice-over artist, and guest faculty member in the UCLA theater department.
How many years did you spend as a participant of the various Junior Players programs?
I was in Junior Players' Summer Shakespeare program the second year of the program and the first year we were actually at Samuell Grand Park on stage with [then] Shakespeare Festival of Dallas. I was in Twelfth Night as Sir Andrew Aguecheek and then the following year in As You Like It as William/Ensemble.
How many years were you apart of the Junior Players' staff and in what capacities?
While in undergrad and after I finished, I came back and taught for Junior Players as an Artist Instructor in various Summer Camps. That segued into taking over the Program Director position.
What degrees or training do you have and from which schools?
I have my BFA in Theater from Syracuse University (Go Orange!!) and my MFA in Acting from UCLA.
What do you enjoy most about your current occupation and/or career?
What's not to love? I make my living as an actor in Los Angeles, which is what I left my amazing job at Junior Players to do.
What is a hobby or interest that started in a Junior Players' Program and that has continued to become one of your life-long interests?
I had read two and performed one of Shakespeare's plays prior to doing Twelfth Night with JP, but after that summer, I was hooked! It brought a new love, understanding, and appreciation to his work, one that I didn't have before.
In what way did a Junior Players Program help shape or improve your life, career, family or identity?
Being in JP's program raised my self-esteem. It was a self-esteem booster because prior to that, I never had the opportunity to actually explore the character, make mistakes, and just have fun! I always felt when I was at a rehearsal it was about the result. At Junior Players, the process was just as important and that became a definite philosophy in my actor's and teaching tool belt.
Describe any significant relationships with fellow Junior Players peers. How did your friendships with other Junior Players peers help you?
I have been blessed to have met so many wonderful people in Junior Players whom I still count as my friends. I'm a lucky guy, because when I was working as Program Director, I had two of my fellow JP'ers Emily Ko and Monica Stansberry working in the office too and when you have as much history as we do, there's a language and ease that develops so we were able to just look or say a word, and the other knew exactly what was meant. I still talk to these two ladies every day. LA has a few alums of my time (Kevin McDaniel, Michael Crow) who are working in the industry as well and a few of my former students (Bola Ogun, Jenny Wood) who have set up shop as well and doing mighty fine for themselves. Of course nothing beats the fabulousness of my former student, then intern, then assistant/protégée, and now my successor, Rosaura Cruz-Webb. She still calls me every day when she needs something. I love it. It makes me feel needed in my old age.
Do you have any advice for future alumni?
It takes time to get to where you want to be. Trust the journey.
What is the motto or saying of your life?
This is one of them: "You do not dismiss a muse at whim…"
---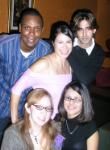 Pictured right: Keidron, Emily, Vik, Erika and Rosaura at alumni happy hour